WHAT YOU SHOULD KNOW USING LATVIAN QUALIFICATIONS DATABASE?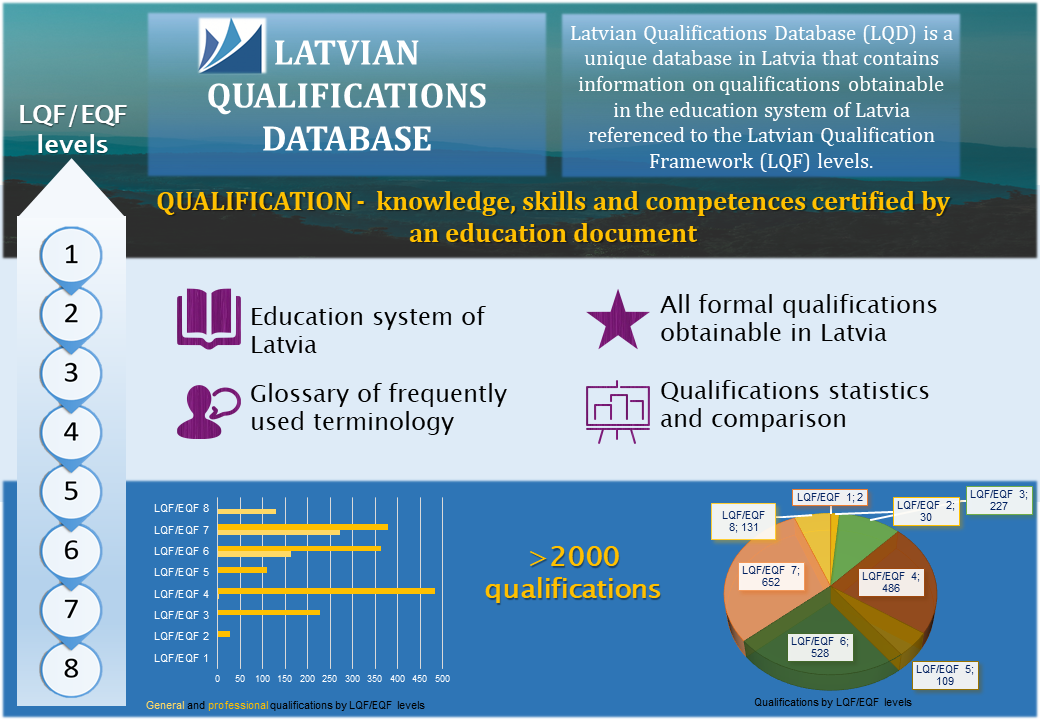 GENERAL QUESTIONS
What is Latvian Qualifications Database?
A unique database in Latvia that contains qualifications obtainable in the Latvian education system. The database is unique because it is the only database in Latvia that has information on education qualifications referenced to the Latvian Qualifications Framework (LQF).
The Latvian Qualifications Database does not reflect information on learning opportunities in the country. Information on learning opportunities in education institutions is available on the National Learning Opportunities Database maintained by the State Education Development Agency.
What is qualification?
In the context of the Latvian Qualifications Database, qualification is knowledge, skills and competences certified by an education document. It is not only professional qualification in professional education.
In the context of the Latvian Qualifications Framework (LQF) and this database, the concept qualification is expanded and refers to the entire education system, including all types of education and formal education documents.
What kind of qualifications can be found in the LQD?
What is the source for qualifications in the LQD?
Qualifications in the database are included automatically from the National Education Information System (NEIS) maintained by the Latvian Ministry of Education and Science. From NEIS we receive basic information about qualifications, such as the title of the qualification, LQF/EQF level, study programme, accreditation period, awarding body/-ies.
However, such an information as learning outcomes (knowledge, skills, competences) are included in the database manually from occupational standards for professional qualifications, from state education standards for general basic education and general secondary education, as well as from information provided by higher education institutions for higher education qualifications.
Does Latvian Qualifications Database contain historical qualifications?
Yes, the database contains also historical qualifications that are no longer implemented in education institutions and education documents are no longer awarded for obtaining them.
In the database, you can find all qualifications that were active at the time of launching the database in 2016. At this point in the database, you can find active qualifications and also historical qualifications that haven't been awarded in Latvia from 2016.
If I am responsible for a particular qualification in the respective education institution, and I notice some mistake in the descriptions of qualifications, may I inquire to correct it?
Yes, in such cases it is certainly preferable that you contact us. See the contact information below.
Such cases may happen, if the data exchange from information and data sources were imprecise or up-to-date.
What is ESCO?
ESCO or European Skills/Competences, qualifications and Occupations portal is portal maintained by the European Commission with a goal to facilitate a united platform in Europe to show qualifications in European countries, and where you may also compare qualifications obtainable in European education between European countries.
The option to compare qualifications between countries in European level may help to understand if your knowledge, skills and competences of your qualification matches that what is expected of the same qualification in a different country if you are willing to continue your education and/or integrate in the labour market.
What information on qualifications is also available in ESCO and other European education portals?
USING THE DATABASE
How to find the qualification?
How to use the statistics?
How to compare qualifications?
What are the keywords in the descriptions of qualifications?

ASK US!
If you want to ask a question, write and call:

kvalifikacijas [] aic.lv

+371 67251162